---
1963
MAGIC POTION * LOU JOHNSON * LONDON 9805 * GB
Before going solo Lou Johnson sang lead with the Zionettes a gospel group signed to Simpson Records, there followed a secular cut (with the two future Soul Sisters) as The Coanjos and Dance The Boomerang. His debut solo recording was with the Big Top/Big Hill record company was in 1962 on Big Top 3115 If I Never Get To Love You.
The beautiful Magic Potion sung as a tender yet urgent plea for his adored yet unrequited love, with a heavenly female backing, was his fifth for the label released on Big Hill # 552 was the B side to (There's) Always Something There To Remind Me (it was also released as an instrumental a year earlier on Big Top #3153) both sides of this record, like many others he recorded, were Burt Bacharach and Hal David compositions.
Released in the UK as the B side to Reach Out For Me this was his first release of only five in the UK, fortunately for some British fans four of his best were gathered together on one Extended Play (see below) but there was no LP.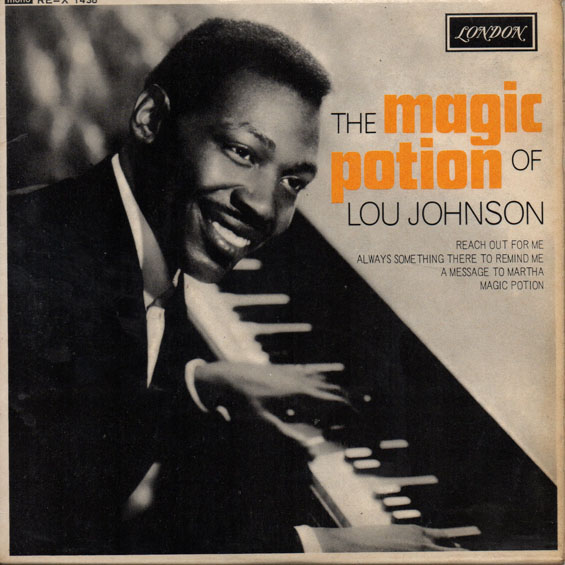 MAGIC POTION * LOU JOHNSON * LONDON 1438 * UK
---