---
1967
SHOUT BAMA LAMA * MICKEY MURRAY * POLYDOR 56738 * UK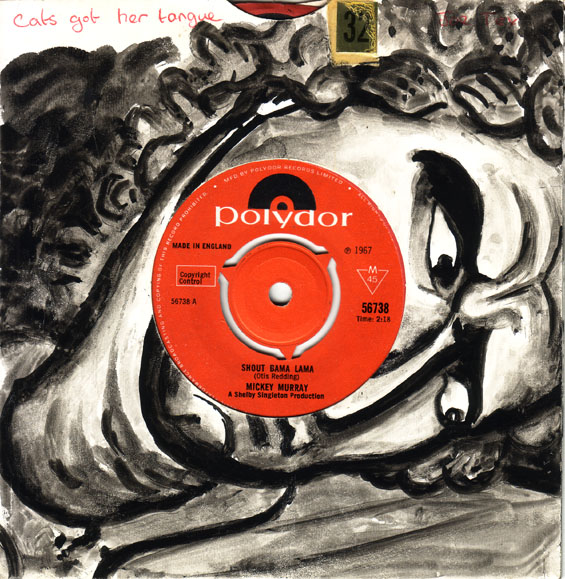 In the 1960s the Soul music fan and record collector in England was at a severe disadvantage relative to his or her equivalent in America, as only a tiny fraction of what was released in the States was issued here, and what was issued needed the skills of Sherlock Holmes to discover. Records like Shout Bama Lama would invariably be released with little or no notice and background information, and could be very easily missed by the Soul fan. Worse still, in the days before the internet, the buyer, if they found out the record was released and managed to buy a copy, would have no way of finding out any biographical or discographical information on the artist.
Radio was one outlet for Soul music fans to get to hear Soul music, but only the pirate radio stations like Radio Luxemburg prior to 1964, then those offshore British stations like Radio Caroline. While the pirates by no means compared to Soul music radio stations in the US, they did play a fair amount of the Soul records, albeit the majority of which were only the records that were released by majors in the UK. Then, of course, it was the great socialist and man of the people (sic) Anthony Wedgwood-Benn as a Minister in the Labour government that closed down the peoples/pirate radio stations in 1967, after which the people were returned to the invidious state broadcasting machine the BBC. After all can't have the masses getting ideas from unapproved sources, and commercially orientated ones at that, but only finely tuned social conditioning direct from the ministry of truth; just as Labour like it.
Polydor issued Shout Bama Lama in 1967, the only Mickey Murray single to be released in the UK. It was most probably only released because that same year Otis Redding, who was almost a 'household name' at the time, had died and all related material was rushed out onto the market to profit from the spike of interest in a Pop star on their sudden, and often tragic, death. Written by Otis Redding and first recorded by Otis Redding & The Pinetoppers on Confederate 135 in 1961, when he was still in his Little Richard imitation phase, the song was originally performed as a wild Good Golly Miss Molly type rocker but is given a laid back Southern Soul treatment on Mickey Murray's recording.
Released in the US on SSS International 715, the first of four on that label, Mickey Murray also had records out on Pepco and Federal.
---