---
1966
THAT'S ENOUGH * ROSCOE ROBINSON * PYE INTERNATIONAL 25385 * GB
Roscoe Robinson was either born May 1928, Dumont, Alabama, or 1933 in Pine Bluff, Arkansas, he started out singing and recording Gospel with The Southern Sons Quartet, in 1950; in 1952 he was recording on JOB as lead singer with Joiner's Five Trumpets; followed by The Silver Quintette on Vee Jay, in 1956; then The Fairfield Four, on Old Town in 1960; after that he was known as; Roscoe Robinson and the Blind Boys of Ohio, and released Sell Out To The Master on Constellation, in 1963.
In 1963 he cut his first solo record What Makes A Man Do Wrong for Tuff after which he cut the above, which was first released on Gerri 001 in 1965, then reissued on Wand 1125 the following year. He recorded three more for Wand and five for Sound Stage 7 before going back to Gerri in 1969.
Roscoe Robinson had none of his 1950s and only That's Enough of his 1960s records released in the UK (although Contempo did release one of his 1970s Gerrie records) however That's Enough was reissued on The British imprint of Wand in 1972 (see below).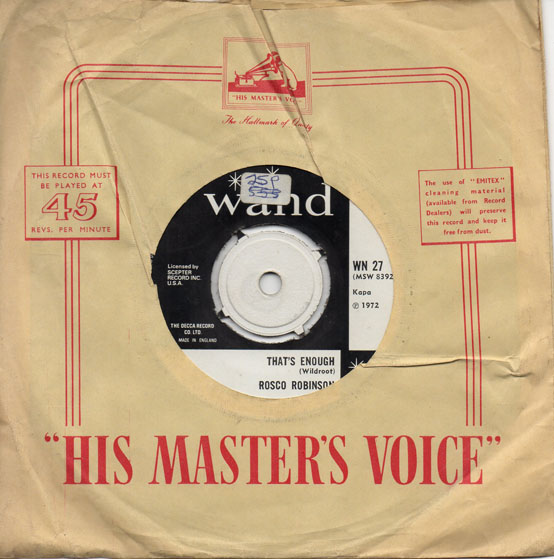 THAT'S ENOUGH * ROSCO ROBINSON * WAND 27 * UK
---