---
1964
YOUR TURN TO CRY * JAMES DAVIS * DUKE 374 * USA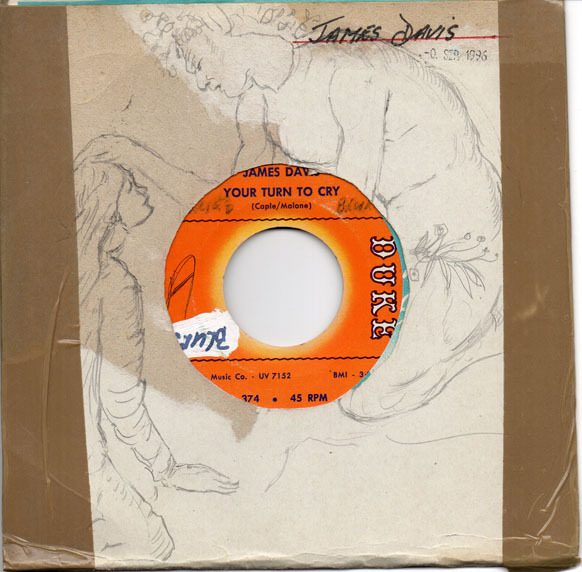 James 'Thunderbird' Davis (1938 - 1992) acquired the nickname 'Thunderbird' (after the wine of the same name) from Blues man Guitar Slim who he worked with during the late 1950s. It was after Slim's untimely death in 1959 that Don Robey employed Davis at Duke Records doing various jobs and occasionally recording demos for other Duke artists to learn songs before going into the studio to record.
James Davis finally got to record for himself in 1963, What Else Is There To Do / Come To The Rock And Roll was released on Duke 343, this was followed by I'm Gonna' Tell You / My Precious Darling, Duke 359. His third release for Duke was Blue Monday / Sing, # 368 in 1964, then came the above Soulful ballad Your Turn To Cry. Recorded in Huston with James Booker, piano; Clarence Holman, guitar; Lloyd Lambert, bass and Herman Hawkins, Drums, the record was a good seller but Davis was to cut only one more record for Robey Bad Dreams / Ain't It Great, Duke 392, After which he returned to working jobs in the music business and warming up on stage for bigger name acts like Joe Tex, 0.V. Wright and Albert Collins,
After leaving the music business altogether in the 1970s James Davis finally got to record again in the 1989 when, amongst other songs, he rerecorded a version of Your Turn To Cry for Black Top Records.
---