Play the Flamigos by clicking on the image.
---
1959
I ONLY HAVE EYES FOR YOU * THE FLAMINGOS * END 1046 * USA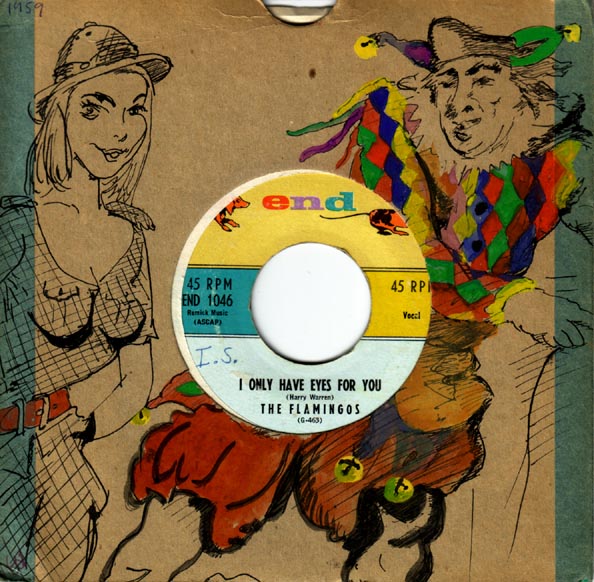 I can't say for certain just what it is I think of when I refer in my mind to an idea of New York (at night) in the 1950s, but whatever the mental 'picture' is this song always evokes it, without my help. Written by Al Warren and Harry Dubin and originally recorded by Eddy Duchin in 1934, I Only Have Eyes For You by The Flamingos was released in April 1959 the song became an international hit, though only reaching number eleven in the US Pop charts, it rocketed straight to the number one spot R&B.
The Flamingos are regarded in some circles as the best vocal group in history and I Only Have Eyes For You is the song that is, internationally, regarded as their most celebrated song: their anthem. So artful and so memorable are the opening lines I Only (Shoo Bop Shoo Bop) Have Eyes For You that this recording transcends the temporal and becomes indivisible with the subjective fabric of people's lives. Below is an example of one of the comments from a you tube posting of this recording:
Summer 1959: Her name was Marsha and she wore a white blouse and brown loafers. She had brown hair with blond highlights and smelled like gardenias. She was the sister of a high school buddy who gave the party. This song was our first slow dance and I was in heaven and never wanted it to end. Although we danced and dated for a few months, the feeling of that first dance was never repeated. Every time I hear this song or smell gardenias I remember that night like it was yesterday.
The song has been covered many times, Jerry Butler recorded it in 1972 (see below) and Rolling Stone magazine ranked The Flamingos I Only Have Eyes For You #157 on their list of the 500 greatest songs of all time.
I ONLY HAVE EYES FOR YOU * JERRY BUTLER * MERCURY 6052 155 * UK
---