---
1962
EL WATUSI * RAY BARRETTO * COLUMBIA 7684 * UK
As a great Soulful dance tune, which had the magic ingredients of sophistication and obscurity (something that was later taken to extreme limits by some followers of Northern Soul), El Watusi caught the imagination of the Modernist's who's ears and eyes were wide open at the time.
First released on Columbia 7051 in 1963, this is the second British issue of this esoteric Mod dance tune, which is sung entirely in Spanish. The record has lived outside many Mod mythologies partly due to the difficult nature of relating to any information about what was thought to be a record of Spanish origin, and probably being that it was a difficult record to ask for in shops, affecting its sales thus adding physical scarcity to its intellectual scarcity.
Ray Barretto, who was not from Spain but born Brooklyn, New York of Puerto Rican parents, had been playing drums for some time when in 1957 he replaced Mongo Santamaria in Tito Puente's band. It was after forming his own band in 1961 and recording for Riverside records that following a brace of albums he cut the album Charanqua Moderna from which El Watusi was taken, it was a popular success in the States and reached the Top 20 pop chart and in 1963 and went gold; which is probably why it was released in the UK and how British Deejays came to use it, as very little other Latin stuff was played at the time.
Although Ray Barretto cut many fine danceable tracks and despite El Watusi being good enough to release twice, at the time only one other 45 was issued under his name in the UK. Pressed up on the London label, though reputedly never issued, Acid his fusion of Jazz and Soul from 1969, was his only other release (see below).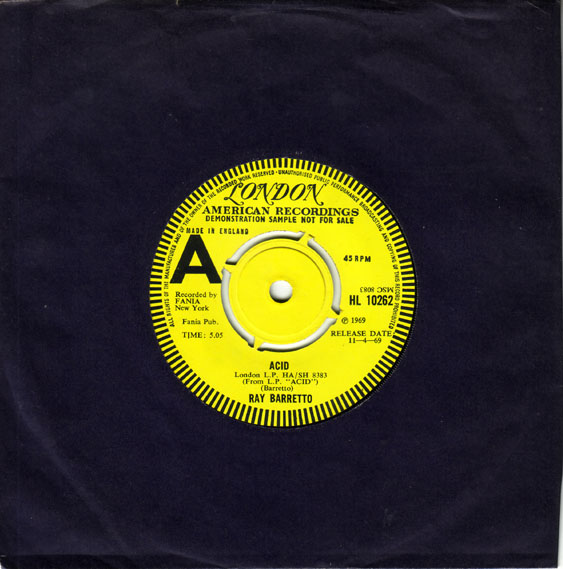 ACID * RAY BARRETTO * LONDON 10262 * UK
---