---
1964
JUST AIN'T ENOUGH LOVE * EDDIE HOLLAND * STATESIDE R&B CHARTMAKERS NO. 4 * UK
In Just Ain't Enough Love Eddie Holland's voice has so much grace, delicacy and sheer beauty that it is inexplicable how such a unique vocal talent can have disappeared so quickly. Released in the USA on Motown 1058 (see below) and only issued in the UK on the ironically titled R&B 'Chartmakers' #4 - a series of four Tamla Motown related Extended Plays - the song is a tale of dissatisfaction and imminent loss of a loved one, that can also be seen as sadness and discontent with society in general.
In the song Holland switch's from first person to third person and his voice changes subtly from plaintiff to plaintive adding a richness and complexity to the narrative. It was Eddie Holland's penultimate release on the Motown label issued in May 1964 exactly forty years ago; he first recorded for the Mercury label in 1958, a Berry Gordy composition You; after recording for Mercury and United Artists Eddie Holland sang demo's for Jackie Wilson.
Just Ain't Enough Love was also recorded by Tamla Motown stable mates The Isley Brothers on Tamla 54182, released in 1967 (see below).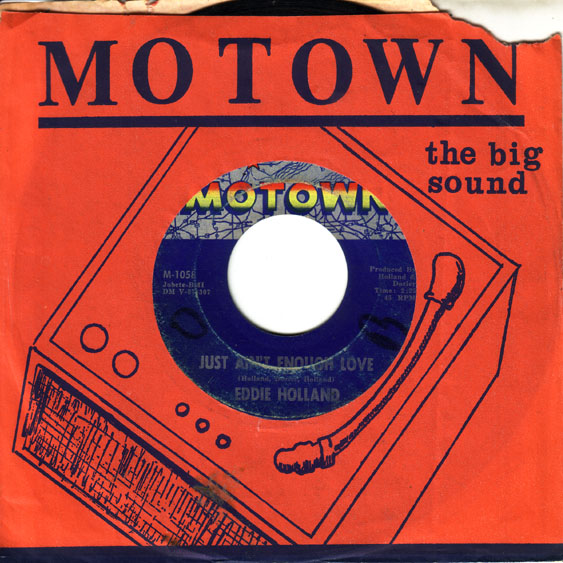 JUST AIN'T ENOUGH LOVE * EDDIE HOLLAND * MOTOWN 1058 * USA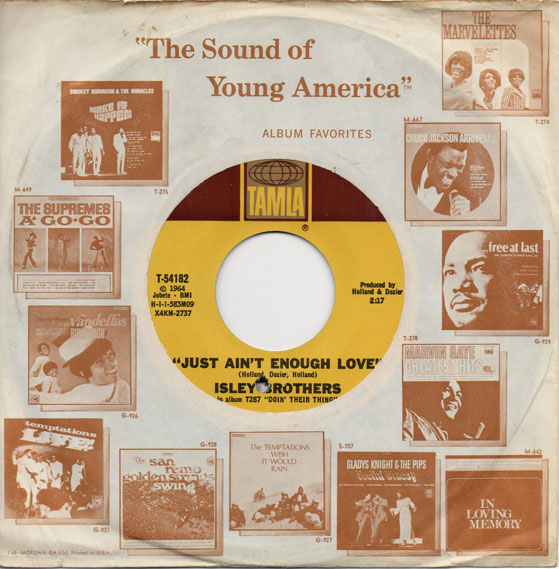 JUST AIN'T ENOUGH LOVE * ISLEY BROTHERS * TAMLA 54182 * USA
Full Eddie Holland Discography
---