---
1960
MOTHER-IN-LAW * ERNIE K-DOE * LONDON 9330 * UK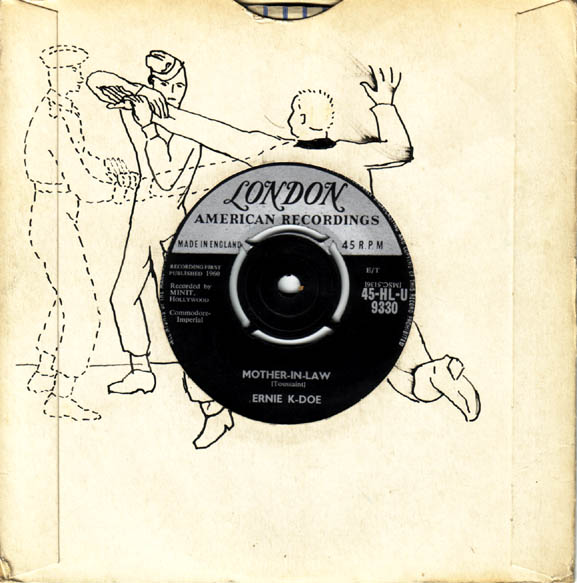 Ernie K-Doe sang with not only The Moonglows but The Flamingos as well [imagine being able to claim that!!] He also recorded with a New Orleans group called the Blue Diamonds who recorded for Savoy, and before joining Minit as a solo act, he record for Herald and Specialty.
Mother-In-Law was his third release for Minit and became a massive hit. The record, something of a novelty number, has Benny Spellman singing the bass line, and Alan Toussaint on piano. There was some debate between Ernie K-Doe and Spellman as to who was responsible for making it a hit, the problem was resolved when Ernie K-Doe sang back up on Spellman's Lipstick Traces.
At the time the concept of the 'Mother-in-law' as a meddling and troublesome individual was popular with dramatic and fictional narratives as well as a stock in trade trope for comedians. Clearly this model of the problematic parent in law was not confined to Western culture as evidenced by its release in Japan (see below).
Two different answer records were released in 1961 Son-In-Law by Louise Brown and Son-In-Law The Blossoms, and in 1964 Ernie K-Doe released his own follow up My Mother-In-Law (see below) Released in the UK in February 1965, and said to be the last 'Vocalion Pop' release. Erine K-Doe was married four times and after his death in 2001 he was outlived by three of his Mother-in-law's, and is, ironically, buried in the same tomb as the fourth!
Such was the popularity of the song for Ernie K-Doe, it was his only top 50 entry, that in 1994 he opened "The Mother-in-Law Lounge" bar in New Orleans.
MOTHER-IN-LAW * ERNIE K-DOE * LONDON 199 * JAPAN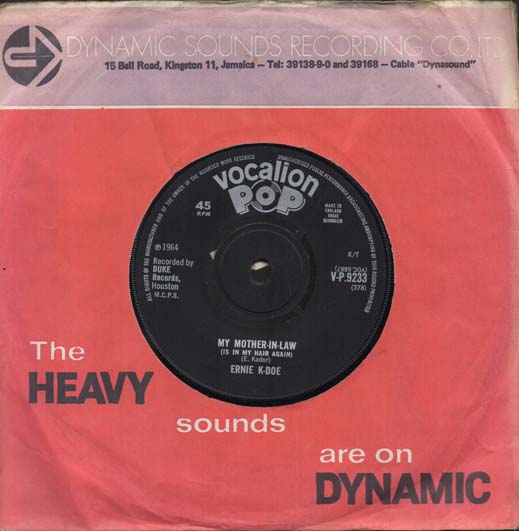 MY MOTHER-IN-LAW * ERNIE K-DOE * VOCALION POP 9233 * UK
See also: Te Ta Te Ta Ta
---