---
1966
BLOWIN' IN THE WIND * STEVIE WONDER * TAMLA MOTOWN 570 * UK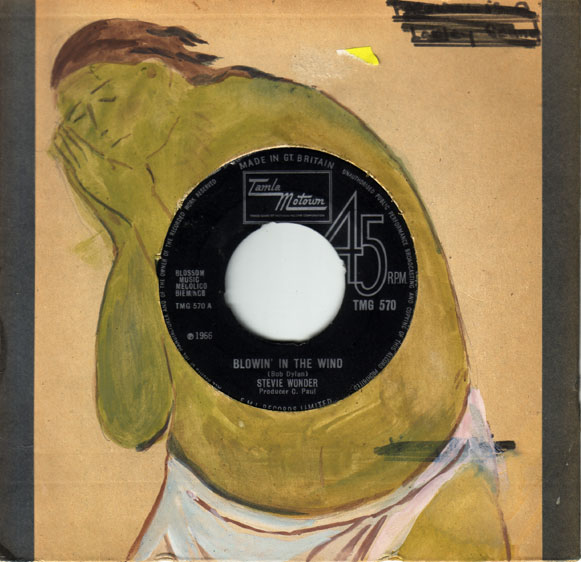 Written and first performed by Bob Dylan in 1962 and recorded by him on the 1963 album The Freewheelin' Bob Dylan, though it was the Folk group Peter, Paul and Mary that had the first single and a million seller hit with the song that same year.
Blowin' In The Wind has, since it's release, resonated in the consciousness of black Americans; Mavis Staples expressed her astonishment on first hearing the song, and said she could not understand how a young white man could write something which captured the frustration and aspirations of black people so powerfully. The song also resonated deeply in the psyche of singer songwriter Sam Cooke who was inspired by it to write his A Change Is Gonna Come (a song that the first black president of the USA Barack Obama referred to in his acceptance speech) a result of which both songs became anthems for the Civil Rights movement in the 1960s. The melody of the song has since been identified as being from an old Negro spiritual No More Auction Block.
Stevie Wonder's version is enriched and lifted out of the ordinary by the vocal interjections of producer/songwriter Clarence Paul, the record went to number one R&B, and number nine Pop in the summer of 1966.
See also:
---