---
1964
UM UM UM UM UM UM * MAJOR LANCE * COLUMBIA 7205 * UK
A Curtis Mayfield song, you can forgive Him for the duff "it wasn't quite dark" line, in such a brilliant song that sits tantalizingly on the very edge of youthful optimism and cautionary experience. On this song I think of Major Lance as being like the double faced Janus singing both as a young Major Lance, who is in a park, with a pretty girl, presumably full of the joys of spring, and as an old man, sitting on a bench in the twilight (maybe that line is not so bad after all) who seems at first to be passing some moral judgment on the young. Yet the young man in question is polite and deferential to the old man so that there can be no reason for a stereotypical judgment. Then the young man has himself 'grown up' and now he himself understands the enigma of time.
I think the real key to this song is the line spoken by the young man "I just couldn't help myself, yes I was born with a curious mind" here is a starting point that Curtis Mayfield is reaching out to give to the youth. As the word Janus properly means 'a gate', we the listener are placed in a gateway, a threshold and are being given the knowledge of both the now and the hereafter from which to begin; it is impossible to justify a point of departure absolutely, we must begin wherever we are; but where are we? Are we where we believe we are?
Produced by Carl Davis and released in the US on OKeh #7187 (see below) it was his fourth of eighteen single records from 1962 to 1968.

Advertisement from Record Mirror 22 February 1964.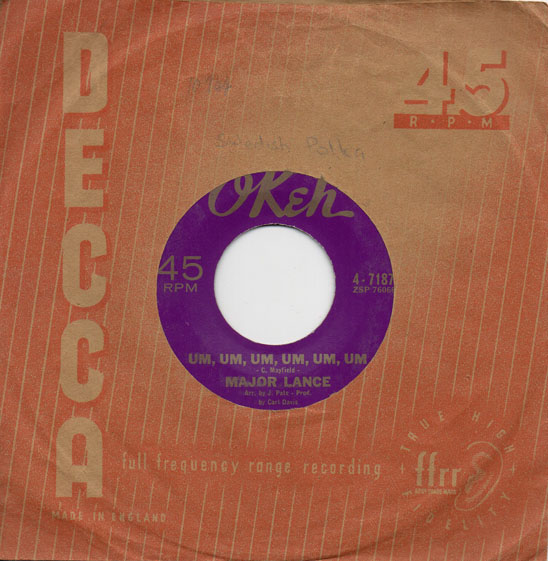 UM, UM, UM, UM, UM, UM * MAJOR LANCE * OKEH 7187 * USA
See also You Belong To Me My Love
---