---
1961
YOU BETTER MOVE ON * ARTHUR ALEXANDER * LONDON 9523 * UK
When this song reached the ears of the Modernists in Southern England Arthur Alexander became an instant legend amongst them. Written and recorded by Arthur Alexander in what was to become the famous 'Fame' Studio in Muscle Shoals, You Better Move On has a unique sound, a fusion of Country and Soul, a musical genre that Alexander was a pioneer of, which, when it was released in Great Britain had not been heard before and became an instant hit with the modernists who's ears were tuned to black American music and especial any 'new' sound coming from the USA; it was the ambience, the delivery and most of all the sentiments of the lyrics that appealed to this sophisticated and hip yet predominantly working class group.
Although, subsequently, Arthur Alexander's songs and style was widely covered and imitated by the likes of: The Beatles, The Rolling Stones, Elvis Presley and Bob Dylan to name a few, the man was never really recognized outside of Soul circles; so what else is new.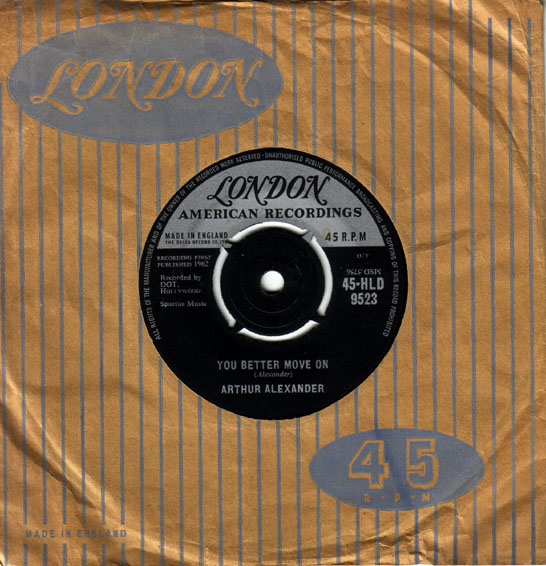 Originally released in the US on Dot (see below) in December 1961 and in the UK March 1962. It can be seen that this record was issued on two different imprints with the same catalogue number; the regular and generic London American label, above, and the specific London Dot issue seen at top.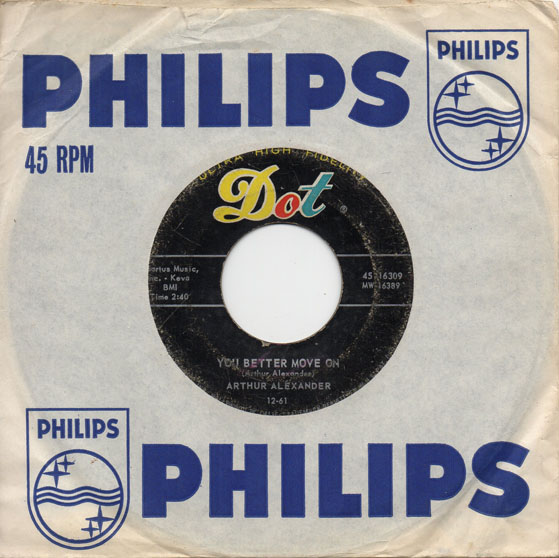 YOU BETTER MOVE ON * ARTHUR ALEXANDER * DOT 16309 * USA
See also: Anna and A Shot Of Rhythm And Blues
---