---
1965
6345 - 789 * WILSON PICKETT * ATLANTIC 4072 * UK
Wilson Pickett's fifth Atlantic release USA, 634 - 5789 was the third in a triumvirate of Soul hits that established his danceability status at the highest level with British Mods in the very last stage of their brief existence. The first of this holy trinity of records was In The Midnight Hour, followed by Don't Fight It, then the above 634 - 5789, all three of which shared a similar feel yet remained distinctly different, an achievement that is usually most difficult to pull off. Many artists have fallen into oblivion after coming to prominence with a new sound when they tried to replicate that sound on their second release.
A tragic side effect of the success of these three records on the sensibilities of the Soul fan was because they became so popular the repetition of their play subsequent to their initial popularity with the Mods meant that they became over familiar and were put aside for other records less well-known, and therefore, more exotic. As a counterpoint to their continuing popularity with a general public appreciation - Oldies radio shows, 'Best of' Soul compilations, etc; - first wave, and later generations, of Mods, Soul fans and Soul DJs have tended to leave these gems in their collections un-played. I, my self, while valuing these tracks enough to put them in protective covers (my personal method of quality grading) have over the years been reluctant to give them a spin when in session. Hopefully these tracks will, one day soon, no longer sound so familiar that the inherent qualities that originally made them so popular will be heard again.
A cover version of 634 - 5789 was released many years latter by the Jamaican group the Dingle Brothers (see below).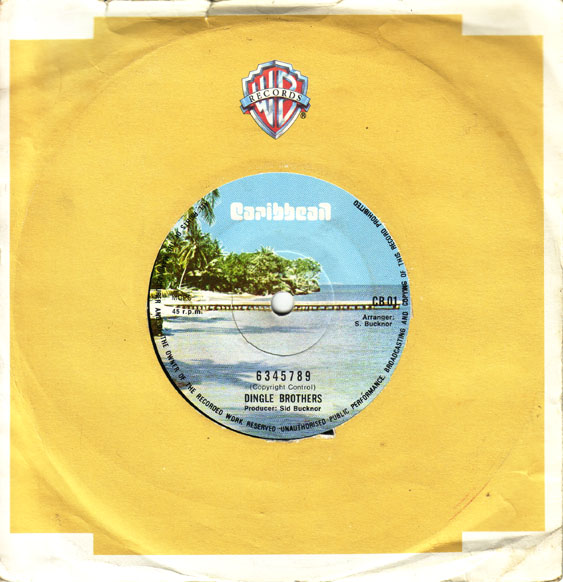 6345789 * DINGLE BROTHERS * CARIBBEAN 01 * UK
See also:
---