---
1963
HITCH HIKE * MARVIN GAYE * TAMLA 54075 * USA
Although Hitch Hike was released in December 1962 in the US and was never released as a single in the UK (it was issued on the first [of four] R&B Chartmakers EP [see below] in June 1964 it is a fantastic summer (outdoor) record from Marvin Gaye, akin to the summer sounds of Martha And The Vandellas Dancing In the Street (NB. The Vandellas also sang backing vocals on Hitch Hike). Written by Marvin Gaye,Mickey Stevenson and Clarence Paul, Hitch Hike is a song full of optimism and the joys of spring and was a big hit with Modernists in London who were left frustrated at not being able to buy the single when it was played in the dance halls and clubs throughout the Capital.
Was it about a dance or a petition to get out and travel even if you didn't have the fare, could well have been both whatever the songs meta narrative it gave Marvin Gaye his first top 30 hit.. The authors of the song might have been influenced by the release of Russell Byrd's dance record Hitch Hike released a couple of months earlier in October 1962, or, if it's not just a dance record, like thousands of others at the time, by Jack Kerouac's On The Road the best selling novel published only six years earlier.
Based on the spontaneous road trips of Kerouac and his friends across mid-century America On The Road was a crucial text of the 'Beat Generation'. who's core group consisted of writers Kerouac, and William Burroughs and poet Alan Ginsburg; this American cultural phenomenon became known in the UK as Beatniks.
Hitch-hiking, or thumbing-a-ride, was a totally different proposition in America during the 1950s and 60s than it was in the UK, as relatively very few hitched rides on British roads. One reason being there was a lot more ground to cover with much bigger and better roads in the US, but the main difference was the amount of cars, cars? did I say cars? What I meant was fabulous dream machines, huge sculptures in metal and chrome that transported people dream like from one place to another in luxury and unbelievable style equipped with the facility to listen to R&B and Soul music wafting over the airwaves whilst the let the good times roll by mile after mile, all on petrol (gasoline) at 10cents a gallon.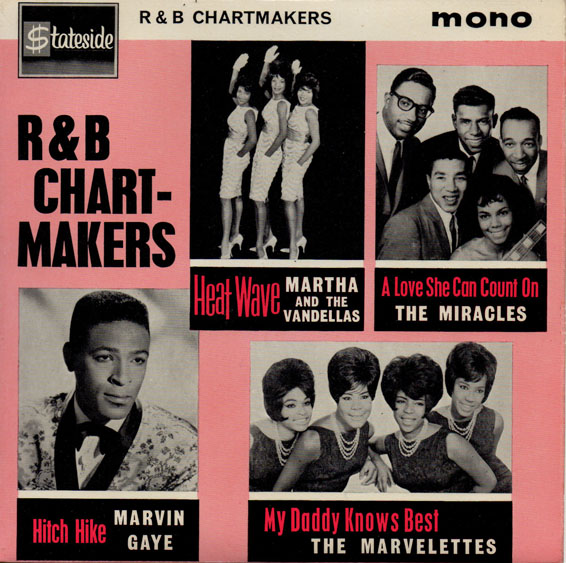 HITCH HIKE * MARVIN GAYE * STATESIDE 1009 * UK
See also:
---