---
1960
WONDERFUL WORLD * SAM COOKE * HIS MASTER'S VOICE 754 * UK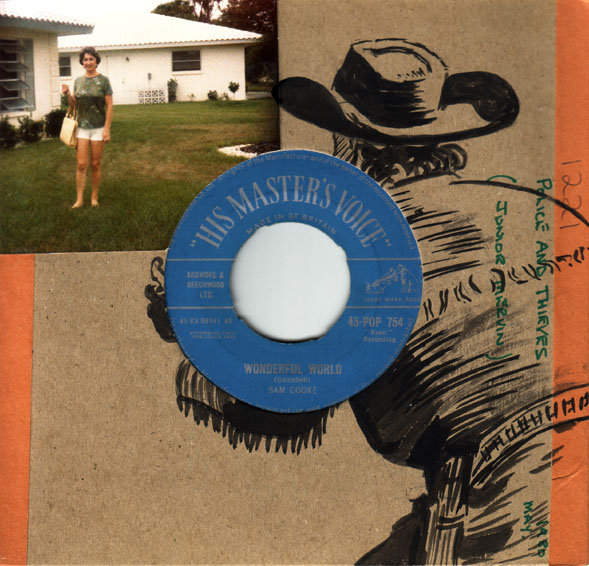 Originally released in the US on Keen 2112, on April 14th 1964 Wonderful World was Sam Cooke's penultimate record for the independent Keen label before moving to RCA Victor. Although he is overlooked now by many record buyers Sam Cooke, along with Ray Charles, was at the time of this release one of the biggest names in the emerging black music scene in America that was changing from the R&B/Rock And Roll era into what was soon to become known as Soul.
It is worth taking a look at all the records that made the top ten on Billboard's R&B charts for 1960, and, even though charts like this are highly suspect as to what R&B music fans were actually buying none the less it can be seen just how much uncertainty there is in the music, most likely from the people who compiled the charts. As can be seen below there were at least 23 records that, as good as they are, in my opinion have little or nothing at all to do with R&B. There is a further half-dozen that, while they can be classed as black music, are very much in the MOR mode. Compare that with the following year 1961 and there are only five in the definitely not R&B category, and a further couple in the MOR vein, while the vast majority of the 1961 top ten R&B were, and still are, very much top Soul / R&B records.
All the records that made the Top Ten R&B 1960.
* at the beginning denotes a No. 1
^^^^^^^^^^^^^^^^^^^^^^^^^^^^^^^^^^^^^^^^
ALL I COULD DO WAS CRY * ETTA JAMES * ARGO
ALLEY-OOP * HOLLYWOOD ARGYLES * LUTE
AM I THE MAN * JACKIE WILSON * BRUNSWICK
AMONG MY SOUVENIRS * CONNIE FRANCIES * MGM
BABY WHAT YOU WANT ME TO DO * JIMMY REED * VEE JAY
* BABY YOU GOT WHAT IT TAKES * BROOK BENTON AND DINAH WASHINGTON * MERCURY
BIG BOY PETE * OLYMPICS * ARVEE
BURNING BRIDGES * JACK SCOTT * TOP RANK
CATHYíS CLOWN * EVERLY BROTHERS * WARNER BROS
CHAIN GANG * SAM COOKE * VICTOR
CRY, CRY, CRY * BOBBY (BLUE) BLAND * DUKE
(DO THE) MASHED POTATOES *NAT KENDRICK * DADE
* DOGGIN AROUND * JACKIE WILSON * BRUNSWICK
DONíT BE CRUEL * BILL BLACKS COMBO * HI
DONíT DECEIVE ME * RUTH BROWN * ATLANTIC
DONíT GO TO STRANGERS * ETTA JONES * PRESTIGE
EASY LOVINí * WADE FLEMONS * VEE JAY
EVERYBODYíS SOMEBODYíS FOOL * MARINA ROUSH * TOPS
* FANNIE MAE * BUSTER BROWN * FIRE
FINGER POPPINí TIME * HANK BALLARD & THE MIDNIGHTERS * KING
FOOL IN LOVE * IKE & TINA TURNER * SUE
FOOLS RUSH IN * BROOK BENTON * MERCURY
GEORGIA ON MY MIND * RAY CHARLES * ABC PARAMOUNT
GONZO * JAMES BOOKER * PEACOCK
GOOD TIMINí * JIMMY JONES * CUB
HANDY MAN * JIMMY JONES * CUB
* HE WILL BREAK YOUR HEART * JERRY BUTLER * VEE JAY
HEARTBREAK (ITíS HURTINí ME) * JON THOMAS * ABC PARAMOUNT
HOW ABOUT THAT * DEE CLARK * ABNER
I LOVE THE WAY YOU LOVE ME * MARV JOHNSON * UNITED ARTISTS
I WANT TO BE WANTED * BRENDA LEE * DECCA
I WANT TO KNOW * SUGAR PIE DE SANTO * CHECKER
IíM SORRY * BRENDA LEE * DECCA
IíVE GOT A RIGHT TO LOVE MY BABY * B. B. KING * KENT
IF I CANíT HAVE YOU * ETTA & HARVEY * CHESS
ITíS NOW OR NEVER * ELVIS PRESLEY * VICTOR
ITSY TEENIE WEENIE POLKA DOT BIIKNI * BRIAN HIGHLAND * LEADER
JUST A LITTLE BIT * ROSCOE GORDON * VEE JAY
KIDDIO * BROOK BENTON * MERCURY
LADY LUCK * LLOYD PRICE * ABC PARAMOUNT
LAST DATE * FLOYD CRAMER * VICTOR
LEAD ME ON * BOBBY BLAND * DUKE
* LETíS GO, LETíS GO, LETíS GO * HANK BALLARD & THE MIDNIGHTERS * KING
LONELY WINDS * DRIFTERS * ATLANTIC
MACK THE KNIFE * ELLA FITZGERALD * VERVE
MADISON TIME * RAY BRYANT * COLUMBIA
A MILLION TO ONE * JIMMY CHARLES * PROMO
MR. CUSTER * LARRY VERNE * ERA
MOUNTAIN OF LOVE * HAROLD DORMAN * RITA
MY DEAREST DARLING * ETTA JAMES * ARGO
MY GIRL JOSEPHINE * FATS DOMINO * IMPERIAL
NEW ORLEANS * GARY (U. S.) BONDS * LEGRAND
NIGHT * JACKIE WILSON * BRUNSWICK
OOH POO PAH DOO (PART II) * JESSIE HILL * MINIT
PARTING TIME * B. B. KING * KENT
QUESTION * LLOYD PRICE * ABC PARAMOUNT
* A ROCKINí GOOD WAY * DINAH WASHINGTON & BROOK BENTON * MERCURY
RUNNING BEAR * JOHNNY PRESTON * MERCURY
* SAVE THE LAST DANCE FOR ME * DRIFTERS * ATLANTIC
* SHOP AROUND * MIRACLES * TAMLA
SIXTEEN * REASONS CONNIE STEVENS * WARNER BROS
SLEEP * LITTLE WILLIE JOHN * KING
STAY * MAURICE WILLIAMS * HERALD
STICKS & STONES * RAY CHARLES * ABC PARAMOUNT
STUCK ON YOU * ELVIS PRESLEY * VICTOR
SWEET SIXTEEN * B. B. KING * KENT
TA-TA * CLYDE McPHATTER * MERCURY
TEEN ANGEL * JULIE TENDER * PINK
THEME FROM A SUMMER PLACE * PERCY FAITH * COLUMBIA
* THEREíS SOMETHING ON YOUR MIND * BOBBY MARCHAN * FIRE
THINK * JAMES BROWN * KING
* THIS BITTER EARTH * DINAH WASHINGTON * MERCURY
THIS MAGIC MOMENT * DRIFTERS * ATLANTIC
THREE NIGHTS A WEEK * FATS DOMINO * IMPERIAL
TODAY I SING THE BLUES * ARETHA FRANKLIN * COLUMBIA
THE TWIST * HANK BALLARD & THE MIDNIGHTERS * KING
THE TWIST * CHUBBY CHECKER * PARKWAY
VOLARE * BOBBY RYDELL * CAMEO
WALKING TO NEW ORLEANS * FATS DOMINO * IMPERIAL
WHAT IN THE WORLDS COME OVER YOU * JACK SCOTT * TOP RANK
* WHITE SILVER SANDS * BILL BLACKS COMBO * HI
WHY * FRANKIE AVALON * CHANCELLOR
WILD ONE * BOBBY RYDELL * CAMEO
* A WOMAN, A LOVER, A FRIEND * JACKIE WILSON * BRUNSWICK
WONDERFUL WORLD * SAM COOKE * KEEN
WONDERLAND BY NIGHT * BERT KAMPFRET * DECCA
WONíT CHA COME HOME * LLOYD PRICE * ABC PARAMOUNT
YOU TALK TO MUCH * JOE JONES * ROULETTE
^^^^^^^^^^^^^^^^^^^^^^^^^^^^^^^^^^^^^^^^^^^^^^^^^^^^^^^^^^^^^^^^
See also:
---